---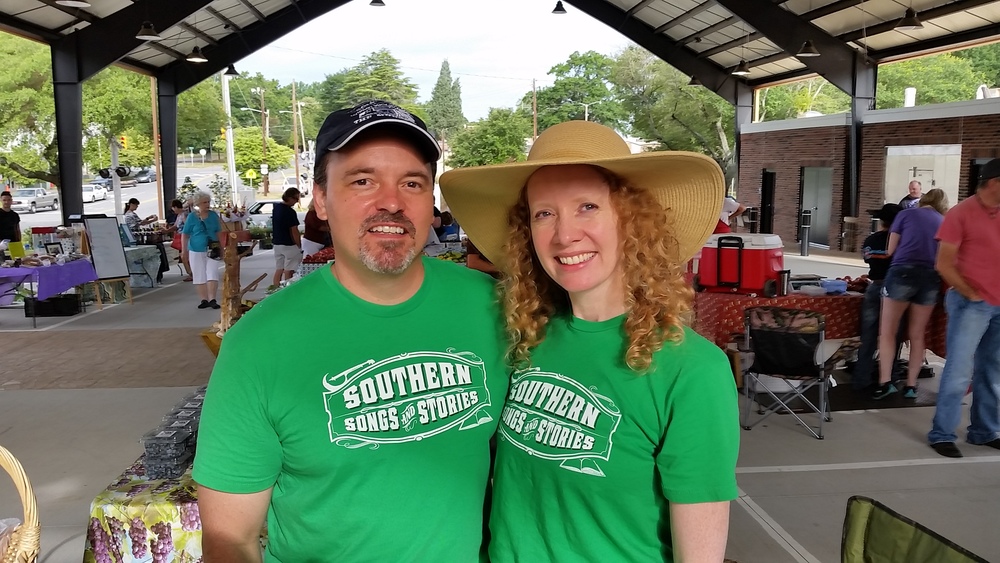 Joe and Amy Kendrick wearing their Southern Songs and Stories t-shirts at the Shelby, NC farmers market
First off, thanks to everyone who contributed to our crowdfunding campaign which made the episode possible! We give a big shout out to: Bernie Kelly, Christina Nicholson, Jim Putnam, Barry Aycock, Debra Heimerdinger, Bill Bush, Jack Catalano, Richard Feimster, Jon Wygal, Earl Seagrave, Steve Levin, Holly Paul, T. Taylor, Brian John Mitchell, Tom Thompson, Rob Daves, Lisa Davis, Doug Keel, Terri Dosher, Shannon Preston, Mitch Miller, Melissa Fountain, Patrick Adams, Bill Buchynski, Zach Neil, Sarah Tarpey, Dick Huey and Steven Harrison.
Of course, we thank The Honeycutters for inviting us along for the journey in making this episode, and Organic Records for helping us in the endeavor as well. In addition, we were given a big welcome at MerleFest, The Willow Tree, The Double Door and The Purple Onion, which made a big impact on the quality of our video and sound. It was truly wonderful to be a part of the band, in a way, for the months of May and June this year!
We will make the finished episode available soon, so stay tuned. Feel free to let us know if you're interested in a download or DVD copy, and if you would like to order a t-shirt. Shirts are $20 + S&H, and run a bit small. I'm wearing an XL here, and Amy is wearing a Large.
Now to find a home for the show, and continue the series! -Joe