---
Jazz artist Roy Ayers once said, "The true beauty of music is that it connects people. It carries a message, and we, the musicians, are the messengers." I was reminded again of that connection with an extended musical family of members both old and new recently at the second annual Carolina In The Fall Music and Food Festival in Wilkesboro, NC.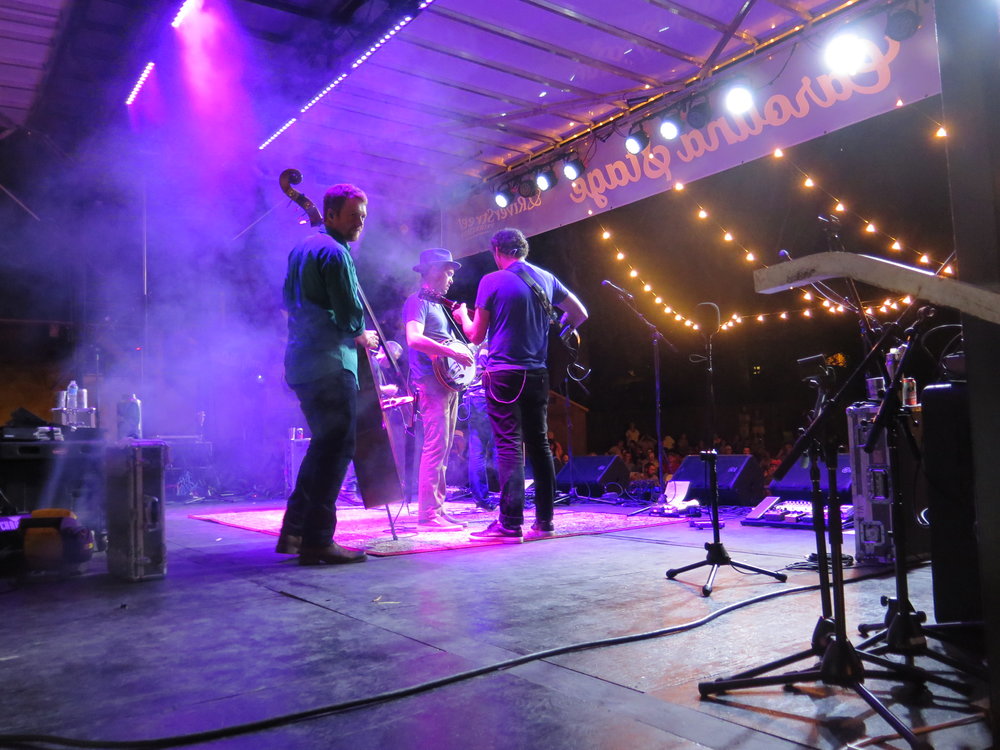 The Infamous Stringdusters performed a rousing set on the Carolina Stage
Last year, the monsoon season began with the festival, and it was the rainiest weekend festival I could remember. The people that attended were pretty hard core fans, decked out in rain gear and patiently waiting out some set delays that were largely due to the unrelenting precipitation.
This year the weather did a 180 degree turn, and we had mostly sunny, fairly hot days in store. I was emceeing once again for WNCW, and by mid-afternoon on Friday, decided to ditch my jeans in favor of shorts for the rest of the way.
Josh Vana of Nora Jane Struthers & the Party Line works on his guitar backstage
Some musical takeaways: The Infamous Stringdusters were the most difficult to photograph. They had a fog machine going, which looked great but made the camera lose focus. They also moved around constantly. But they also put on a fantastic set, so no real complaints here. Nora Jane Struthers & the Party Line's sound has evolved from a sound rooted in acoustic traditions to a much more electric, honky-tonk style all their own. I was knocked out by their newest material, which will appear on album sometime around or just before spring of 2017. Canadians really can play authentic bluegrass: see Slocan Ramblers (pronounced "Slow-Can"). Flatt Lonesome is as impeccably dressed as their harmonies are spot on. Volunteers are the best — I had many conversations with people staffing the event and felt like I was right at home.
Nora Jane Struthers & the Party Line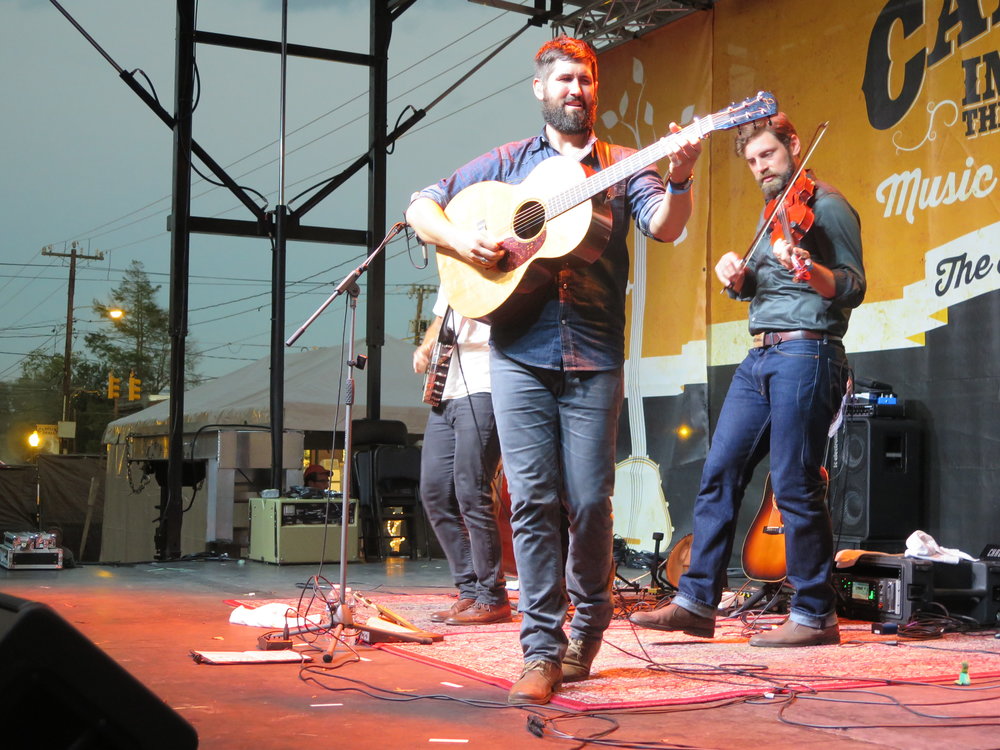 Guitarist Jay Lapp of The Steel Wheels steps out on the main stage
After the late night jam early Sunday morning, I got a few minutes with Jay Lapp of The Steel Wheels and asked him about the Red Wing Roots Music Festival that they host, about touring by bicycle, and their next record.
It was heartwarming to reconnect with old friends Jeff Eason, Holly and Mike Paul, Tom and Gail Watts, and The Kruger Brothers. New friends like Stu Vincent were a joy, and getting to know festival organizers Dale and Michelle Isom better was another high point for the weekend.
One of the many murals in Wilkesboro, NC
This month I hope to reconnect with both my musical and biological family when I take my cousin Richard to his first LEAF festival in Black Mountain. Hope to see you there! -Joe