---
Hello and welcome to Southern Songs and Stories, with a favorite episode from 2021 here on this re-podcast of The Country Heart and Jazz Mind of Sierra Ferrell, published in late July of that year. Since then, Sierra Ferrell has enjoyed seeing the ranks of her fans swell on the heels of Long Time Coming, her album released later that summer. Currently, she is working on her next album with a bigger sound, including drums and pedal steel guitar, as well as fiddle tunes.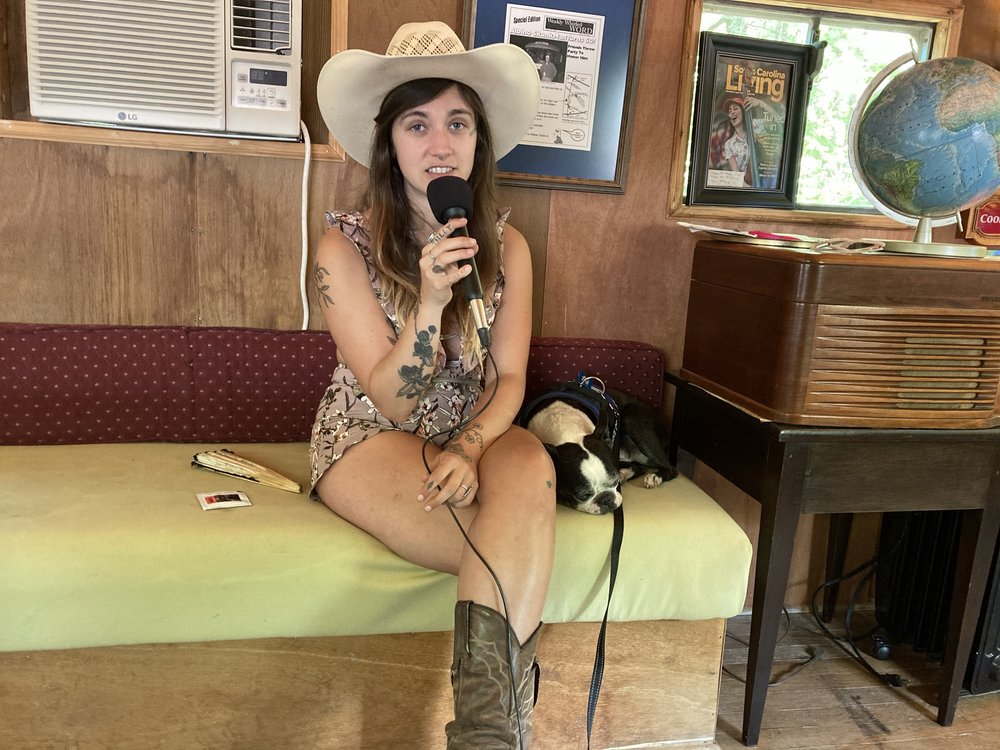 I interviewed Sierra Ferrell at the Albino Skunk Music Festival, which is happening again this week, May 11th through 13th in Greer SC, where I plan on interviewing more artists for future episodes here, so as we say in radio, stay tuned! Hopefully everything will line up for conversations with Miko Marks, Jake Xerxes Fussell and Eilen Jewell. Hope I am not jinxing things by saying that before I have the interviews in hand!
And a big tip of the hat to the Albino Skunk Festival, which is always punching above its weight with getting such great artists. Sierra Ferrell has blown up after playing there, and in its decades long history, internationally known artists like Lake Street Dive, The War and Treaty and Billy Strings have played the festival many times. The War and Treaty talked with me at Albino Skunk in 2019, by the way, and that remains one of my favorite episodes here as well.
Just two weeks ago I was at Merlefest where I interviewed Peter Rowan and Bella White, and you should be seeing episodes with their conversations here before too long. Lots going on as always in podcast land, and I hope to share another bit of positive news here soon, but nothing is set in stone so that will have to wait. What will not have to wait is for you to share Southern Songs and Stories with someone you know who likes music, or history and culture, and follow and give us a top rating on your podcast platform of choice.
Oh, and speaking of history, thanks to one of my favorite podcasts, The Road to Now, for sharing a clip from my podcasts on The Shelton Laurel Massacre on one of their recent episodes. You can find The Road To Now on Osiris Media, and co-host and Avett Brothers bass player Bob Crawford recently published his podcast miniseries Founding Son, on America's sixth president John Quincy Adams, which is well worth a listen also.
Thanks again, and I hope you enjoy our episode on Sierra Ferrell.
Songs heard in this episode:
"Lonesome Woman Blues" by Sierra Ferrell live at Albino Skunk Festival 05/14/21
"I'd Do It Again" by Sierra Ferrell, live at Albino Skunk Festival 05/14/21, excerpt
"T For Texas" by Sierra Ferrell, live at Albino Skunk Festival 05/14/21, excerpt
"Whispering Waltz" by Sierra Ferrell, live at Albino Skunk Music Festival 05/14/21, excerpt
"Why'd Ya Do It" by Sierra Ferrell, live at Albino Skunk Festival 05/14/21, excerpt
"In Dreams" by Sierra Ferrell, live at Albino Skunk Music Festival 05/14/21