---
A week ago today, I was emceeing at Hillside Stage at the 30th MerleFest in Wilkesboro, NC, wrapping up a packed three days of introducing artists and traipsing all over the festival grounds, taking in a lot of great music and talking to friends old and new. It was a hoot, as usual. This year was notable for having artists like James Taylor with the Transatlantic Orchestra, The Avett Brothers doing both their own sets and a tribute show to Doc Watson, and all-star jams with Sam Bush, Jerry Douglas, Bela Fleck, Jim Lauderdale, Shawn Camp and Donna The Buffalo, for starters.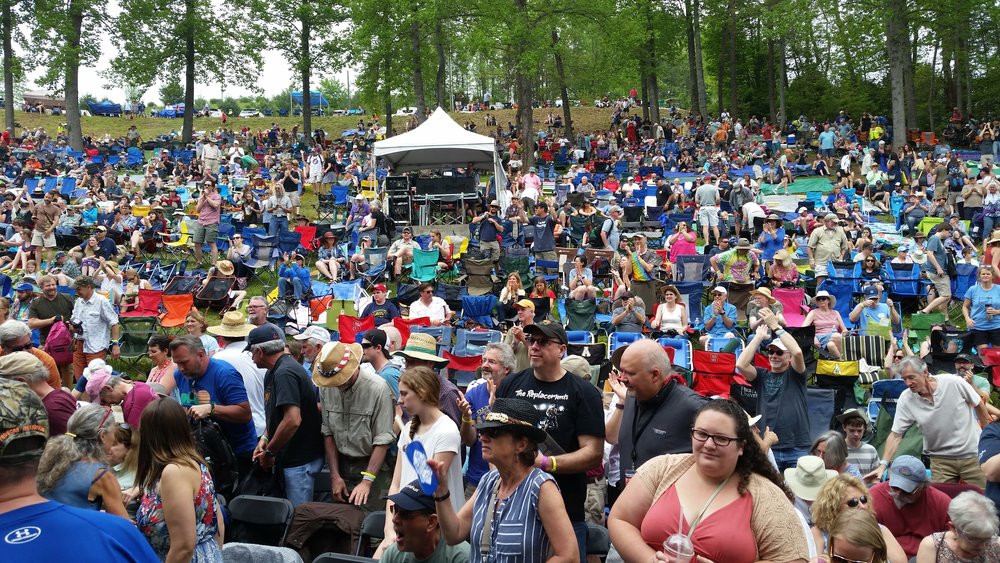 Hillside stage crowd gathers on Saturday afternoon
So, I went straight from my workaday schedule of early to bed and early to rise to the festival schedule of sleep being optional, and walking miles upon miles in weather that was more like mid-June than late April while wearing button-down shirts and slacks. Plus I'm not 25 anymore, so when Monday rolled around I was back at work, but in a semi-vegetative state. Wooo!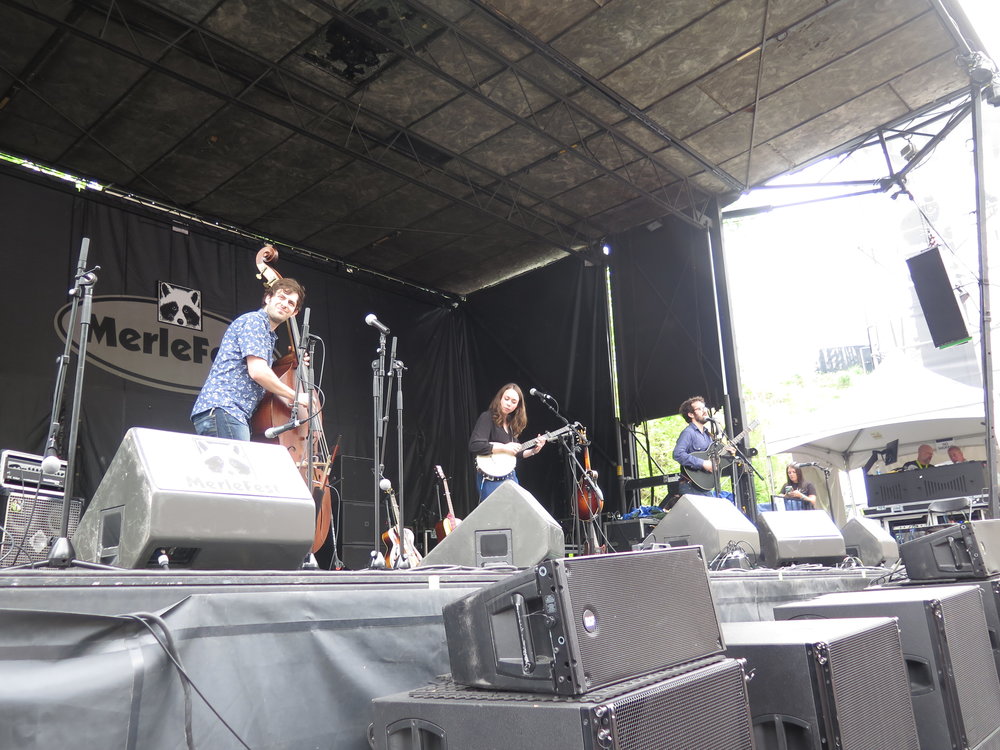 Sarah Jarosz
As usual, the music was tops. I still keep getting a couple of Stray Birds songs stuck in my head. Catching Mary Stuart for the first time was a real treat. Watching Jorma Kaukonen solo was goose bump territory.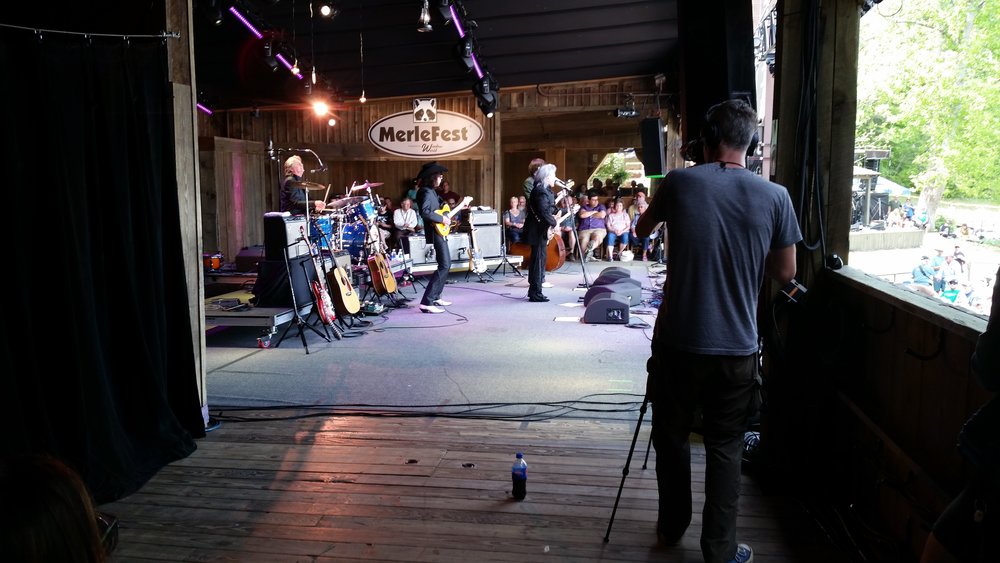 Marty Stuart and His Fabulous Superlatives
The social scene was better than ever. I got to talk with an old colleague from WNCW, Charlie Purdue, whom I haven't seen in a dozen years or more, and to meet his wife. I just happened to park near Zig from Skunk Fest, who drove up his newly purchased camper van, and hung out there a good bit of the weekend. This lead to lots more interaction with Skunkers and artists alike — members of bands like Front Country, Stray Birds and Mipso were hanging out almost constantly. I got to talk backstage with artists like Shawn Camp, Jim Lauderdale and Bela Fleck at length, and listen to Doc Watson stories from David Holt and Pete Wernick.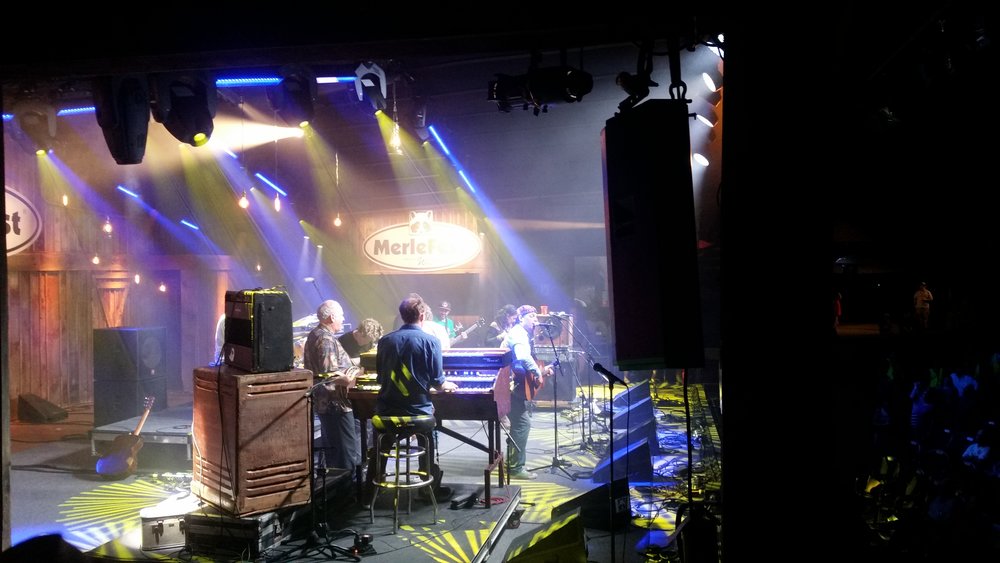 Donna the Buffalo and Friends — Pete Wernick and Shawn Camp here
Some funny and awkward moments that stick out: overhearing a stage tech say to himself as he walked by, "And on jazz flute, Ron Burgundy!". Hearing a band member hauling off their gear say to a friend, "Hippy band's up next!". Watching James Taylor being cordoned off and escorted out by what seemed like every single security officer available. Finding out that no, your emcee status over there does not mean you get to hang out with the Avett Brothers over here. Getting to emcee an unfamiliar stage and trying to use the wrong mic to address the audience, leading to the burly stage manager (let's call him "Mr. Chuckles") to march over to me and point out the correct one, just a few feet to the right, barking "Come on, get with it!". Having to be the guy who told Donna The Buffalo that, no, the song they just played was supposed to be their last because time was up, and then watching Jeb Puryear start reciting a poem that said something about death and a raven (he came over and gave me a hug on stage afterward, so that made me feel better). Don't you just love being the messenger in situations like this? Yeah, me neither.
If a band goes over this 90 minute set limit, backstage folks be gettin' stressed
Soon we'll unveil more videos and the first part of the podcast in our SpringSkunk and Jon Stickley Trio series. I got another interview last week to add to the podcast, from Country Fried Rock's Sloane Spencer. She and her family are regulars on the Skunk Farm, and her perspective will be a nice addition to the piece.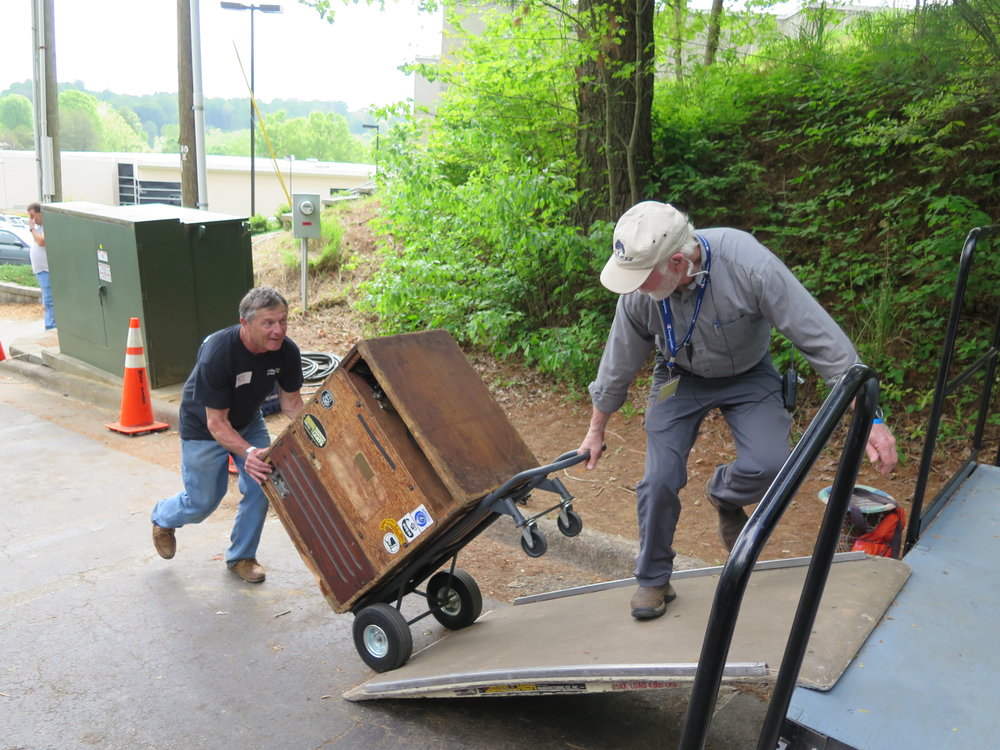 Vintage organs tend to be heavy
In the meantime, I hope to catch our first episode's star, Aaron Burdett, when he has his album release show at Isis Restaurant and Music Hall next weekend. Good times! I promise to try to get more rest though. – Joe Kendrick